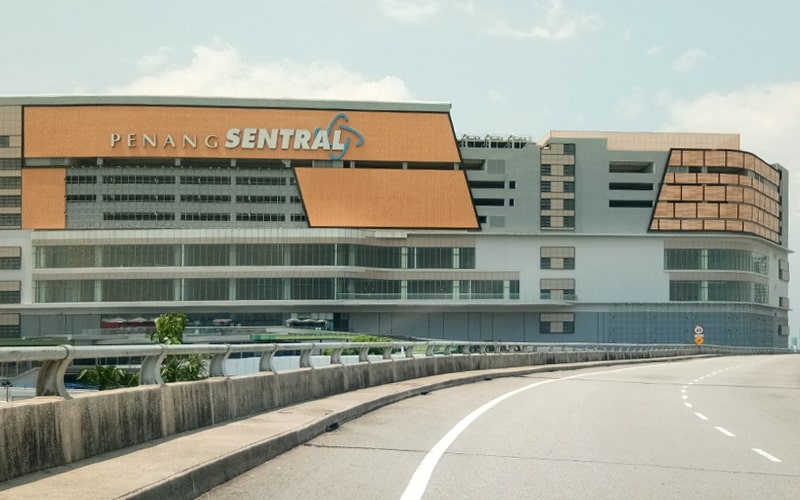 Location: Butterworth, Penang
Penang Sentral Bus Terminal
Penang Sentral is the main transportation hub for Penang State as well as the northern area of Peninsular Malaysia. It is also a nice place to hang out where you can get a spectacular view of the sunset while watching the ferries arriving and departing from the terminal. The terminal is located in Butterworth, Seberang Perai and it connects the passengers from the train, ferry and bus services to ease the journey for the travellers.
It was opened in November 2018 to provide an integrated system for bus, rail, and ferry transportation services. Previously, Butterworth Bus Terminal served as the main bus terminal in Butterworth. After the opening of Penang Sentral, Butterworth Bus Terminal has closed and bus operations are moved to Penang Sentral Bus Terminal.
Where is Penang Sentral Bus Terminal located?
Penang Sentral is located nearby and connected to Butterworth KTM Station and Pangkalan Sultan Abdul Halim Ferry Terminal. See in Google Map »
Popular Bus Routes in Penang Sentral
Passengers can buy Penang Sentral bus ticket online and book for a trip from or to Butterworth or Penang at BusOnlineTicket.com. We have partnered with various operators to provide the most comprehensive online booking portal for our customers. You can check bus schedules, compare prices and book the tickets for buses departing from Penang Sentral Bus Terminal and many other bus terminals and locations on our website.
Below are some of the popular Penang Sentral Bus Terminal bus routes available for online booking:
Check schedule for other bus online booking »
Popular Bus in Penang Sentral
How to Go to Penang Sentral?
The building of Penang Sentral have Ferry Terminal Linkway, Taxi Terminal and KTM Train Station Linkway at level 2 which makes it more convenient for travellers. Butterworth KTM Train Station connects various parts of Peninsular Malaysia to Penang Sentral. On the other hand, Ferry Terminal Linkway connects Georgetown or Penang Island to Penang Sentral.
Moreover, RapidPenang also provides domestic buses from and to Penang Sentral. RapidPenang bus service allows locals in Seberang Perai to reach Penang Sentral easily at affordable rate.
On top of that, Butterworth has extensive Grab coverage so you can easily book a ride to get to Penang Sentral. The drop-off point for the Grab cars or personal cars will be at the main entrance. You will see Starbucks and Huawei right across the entrance when you first enter, and on your right is the Royaltea cafe.
Therefore, you can easily choose either to take the public transportation or other modes to get to Penang Sentral. The main entrance to Penang Sentral is on Level 3 which is accessible via a flyover.
Penang Sentral Bus Terminal Contact Details
6, Jalan Pantai,
12000 Butterworth,
Pulau Pinang
Phone: +6043139888
Amenities at Penang Sentral Bus Terminal
At Penang Sentral Bus Terminal, there are many amenities and facilities that are available for the convenience of the passengers and visitors. For instance, washrooms are available on every floor and there are separate washrooms for men, women, and differently abled individuals (OKU). A baby room is also available at Level 2.
Additionally, plenty of car parks are available in Penang Sentral from Level 6 – Level 9 and the waiting area in front of the ticket counter is spacious to accommodate the crowd especially during festive seasons. In addition, there are ATM, luggage lockers, prayer room for Muslim and shops at level 2 and 3. Moreover, there are various types of food in Penang Sentral too. Other than that, you can also find food court at level 3.
Finally, wheelchair and baby stroller loans are also provided by Penang Sentral Bus Terminal. The passengers can rent wheelchairs and baby strollers from the Information Counters at Level 2 or Level 3.
For more information and pictures, check out The Ultimate Guide of Penang Sentral Bus Terminal.
Why Book Penang Sentral Bus Tickets Online?
No log in required to book
Earn loyalty points & redeem discounts
Various secured payment methods including eWallet
Most trusted online booking portal
Up to 200 operators choice
More than 8,000 routes
---
FAQ
How to buy a bus ticket from or to Penang Sentral?
You can buy Penang Sentral bus ticket from the ticket counter at the bus terminal. The easier way is to book Penang Sentral online ticket at BusOnlineTicket.com or via
BusOnlineTicket mobile app
.
Do I need to register to book a Penang Sentral bus online ticket?
Which bus company is available for online booking?
We have up to 200 operators available for booking. You can check the full list of
bus operators
on our website. Popular buses in Penang Sentral include Billion Stars, KKKL Express, Supernice Grassland and many more.
Which bus route is available for online booking?
We have more than 8,000 routes available for
bus booking
including bus between Malaysia and Singapore and bus between Malaysia and Thailand. You can book Penang Sentral bus tickets to get to KL, Johor Bahru, Shah Alam and many more on our website. Check trip availability online now!
Do I need to print anything to board the bus if I booked the ticket online?
You can show the Booking Confirmation that we sent to your email to board the bus. Booking confirmation are mostly instant, if you have not receive your booking confirmation within 30 minutes, you can reach out to our customer service and contact us.
Are the ticket prices offered on BusOnlineTicket.com same as the counter?
Most of the ticket prices available on our website are the same as the counter. However, we do charge a minimum amount of processing fee, although in most cases, processing fee is waived depending on the operator you choose.
Other Popular Terminals in Penang