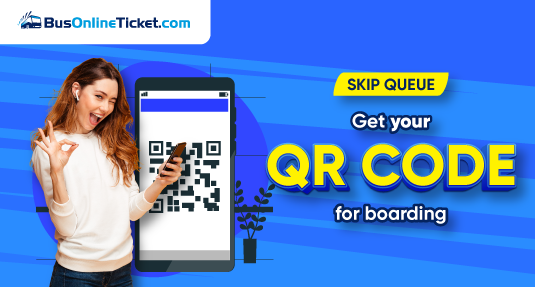 Skip the Lines with Our QR Code Boarding Passes
We are excited to announce that we have launched a new QR code boarding system that will make your travel experience with us even more seamless and convenient. It is the fastest, easiest, and most secure way to access your travel details and boarding pass. No more queuing, no more printing, no more paper tickets!
Quick and Easy Boarding with QR Codes
All you need to do is simply scan the QR code displayed on your mobile device or printed copy at the Entrance of the Departure Hall, and that's it! You are all set to board your bus. Our QR codes can be accessed through the confirmation email sent to you upon booking.
With our new QR code system, you can save precious time, avoid unnecessary hassles, and have a better boarding experience at the terminals. Plus, you get the added benefit of reducing paper waste and doing your part for the environment.
Guide » How to Get QR Code for Boarding at Terminal?
Our QR code ticketing system is available for City Express, S&S International, Neoliner, Kejora Masyhur and many more! We are working towards expanding this service to other operators in the near future.
For a limited time only, we're offering a complimentary QR code for the trips departing in April. Book your April trip now and get your free QR Code!
So, book your bus tickets via BusOnlineTicket.com now to experience the seamless QR Code boarding experience!
BusOnlineTicket.com is a trusted website where you can book bus tickets without having to go to the ticket counter. Book your bus tickets in advance with BusOnlineTicket.com now!
---
QR Code for Boarding at Terminal – FAQ
Why some of my bookings doesn't have QR code?
Only selected terminals and operators have QR Code for boarding.
The QR code cannot be used to scan at the terminal. What should I do?
If the QR Code sent to you cannot be used to scan, kindly proceed to the counter to check-in. Our aim is to provide the best convenience for our customers, you can feedback your experience in our
QR Code feedback form
for our future improvement.
I made some changes to my booking, can I use the same QR Code?
If you or the operator made any changes on the booking offline (out of BusOnlineTicket.com platform), the QR code sent may no longer be valid for boarding. Kindly proceed to the counter for check-in.