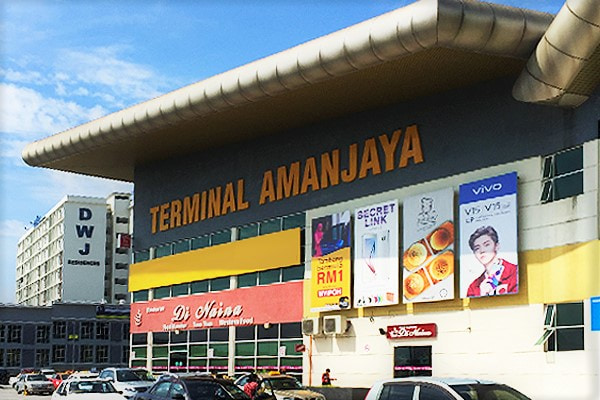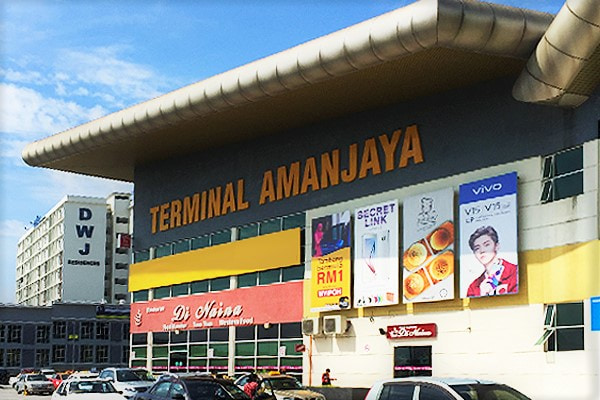 Location: Ipoh
Ipoh Bus Terminal
Terminal Amanjaya is the main express bus terminal in Ipoh. The inter-city bus terminal is located slightly far around 15km from the city center, but always reachable via local public bus.
Where is Terminal Amanjaya located?
Terminal Amanjaya is located in Bandar Meru Jaya, 15km to the north of the city center. See in Google Map »
Popular Bus Routes in Amanjaya Bus Terminal
Passengers can buy Terminal Amanjaya online ticket at BusOnlineTicket.com. We have partnered with various operators to provide the most comprehensive online booking portal for our customers. You can check bus schedule, compare prices and book the tickets for bus departing from Amanjaya Terminal in Ipoh and many other bus terminals and locations on our website.
Below are some of the popular bus routes available for online booking:
Check schedule for other bus online booking »
Popular Bus in Amanjaya Bus Terminal
How to Go to Amanjaya Terminal?
You can reach Amanjaya Terminal by taking local bus, taxi or hiring a Grab.
Due to the location of Amanjaya Terminal, getting there is not so easy. Of course if you are from outside of Ipoh, getting there via express buses is easy. However, if you are from the city instead, or planning to go to Ipoh city from Amanjaya Terminal, it is not so simple.
✔️ Between Terminal Amanjaya and Ipoh city
You can easily get a taxi or order a Grab to travel between these two locations. Grab is usually cheaper than taxi, but the availability might not be so reliable. These options offer more convenience but with higher cost around RM15-30.
Cheapest option would be to take the city bus operated by Perak Transit, known as myBAs. You can either take T30a or T30b bus that cost around RM2-3. This bus service can connect Terminal Amanjaya to Medan Kidd Bus Station (Google Map: Terminal Kidd, Jalan Tun Abdul Razak), which is a bus station for city buses. The bus operates every 1 hour starting from 6:00 am until 9:00 pm.
The travel duration between the Terminal Amanjaya and Medan Kidd Bus Station is around 30 minutes.
✔️ From KLIA/KLIA2 to Ipoh Amanjaya Terminal
There are many tourists from other countries who would want to travel to Ipoh directly once they arrive in Kuala Lumpur International Airport. Some of the popular bus operators to provide buses from KLIA or KLIA2 to Ipoh are Yoyo Express, Starmart Express and Star Shuttle Express.
Bus services from KL Airport to Ipoh Amanjaya Terminal:
The bus ticket price ranges from RM 30 to RM 45, which is a lot cheaper than taking the taxi that can cost up to RM300. Meanwhile, taking the ETS train to Ipoh requires you to travel to Kuala Lumpur city first. The total cost and time required for this transfer might not be worth it. Hence, taking the bus from KLIA or KLIA2 to Ipoh is the best option and highly recommended.
Terminal Amanjaya Contact Details
No. 1, Persiaran Meru Raya 5,
Meru Raya, 30020 Ipoh,
Perak Darul Ridzuan, Malaysia
Phone No.: 05-526 7718
Departures and Arrivals at Terminal Amanjaya
There are big LCD screens at the terminal to display the departure and arrival status of the bus services in the terminal.
For departure, you can head to the ticket counter located on the first floor. All ticket counters are using centralised system and you can book any bus ticket at any counter. Booking your ticket online in advance would be an added convenience. Passengers can just check in to get the boarding pass at the counter. Then, passengers can wait at provided seating area at the Departure Hall.
Upon arrival at Amanjaya Terminal, passengers can find various shops and convenience stores inside and nearby the terminal. Many restaurants are open if you want to grab a meal before continuing your journey. If you plan to go to Ipoh city from Terminal Amanjaya, you can take a taxi, Grab or wait for the city bus service.
Amenities at Amanjaya Terminal
Amanjaya Terminal was built to replace Medan Gopeng Bus Terminal. Hence, the amenities in Amanjaya Terminal are much more enhanced than the previous terminal. Terminal Amanjaya has all the basic needs that passengers might require.
One of the best things about the terminal is that it is a fully air-conditioned terminal. With Malaysia's temperature, cool air is always welcomed. Moreover, plenty of seats in a spacious waiting area are available for passengers.
Hungry upon your arrival at the terminal? Terminal Amanjaya has a food court and few restaurants for you to fill your stomach. On top of that, you can find ATM machines at the terminal in case you need to withdraw some cash before you start your journey.
For Muslims, there are separate prayer rooms for men and women. Men's prayer room is on the lower level and the women's prayer room is on the upper level.
Besides all these basic amenities, Terminal Amanjaya also has massage chair services, luggage storage and baby care room. Elevators and escalators are available for the convenience of the visitors. You can also find budget hotels inside and around the terminal in case you need one. The building almost looks like a mall with all the shoplots and conveniences found in the terminal.
Why Book Terminal Amanjaya Online Ticket at BusOnlineTicket.com?
No log in required to book
Earn loyalty points & redeem discounts
Various secured payment methods including eWallet
Most trusted online booking portal
Up to 200 operators choice
More than 8,000 routes
---
FAQ
How to buy bus ticket from or to Terminal Aman jaya?
You can buy Amanjaya bus ticket from the ticket counter at the bus terminal in Kuala Lumpur. The easier way is to book Terminal Amanjaya online ticket at BusOnlineTicket.com or via
BusOnlineTicket mobile app
.
Do I need to register to book Terminal Amanjaya online ticket?
Which bus company is available for online booking?
We have up to 200 operators available for booking. You can check the full list of
bus operators
on our website. Popular bus in Amanjaya include Perak Transit, Super Nice Grassland and many more.
How to go from Amanjaya Terminal to Ipoh city?
You can take the taxi or hire a Grab easily from the terminal. They can cost around RM15-30. Cheaper option would be to take the local bus called myBas that costs around RM2-3. Learn more in the article.
How to go to Ipoh city from KLIA or KLIA2?
You can hire a taxi or use the airport transfer service but this can cost a lot due to the distance. Best option is to take express bus service from the KLIA or KLIA2 directly to Ipoh. More details explained in the article.
Are the ticket prices offered on BusOnlineTicket.com same as counter?
Most of the ticket prices available on our website are same as counter. However, we do charge a minimum amount of processing fee, although in most cases, processing fee are waived depending on the operator you choose.