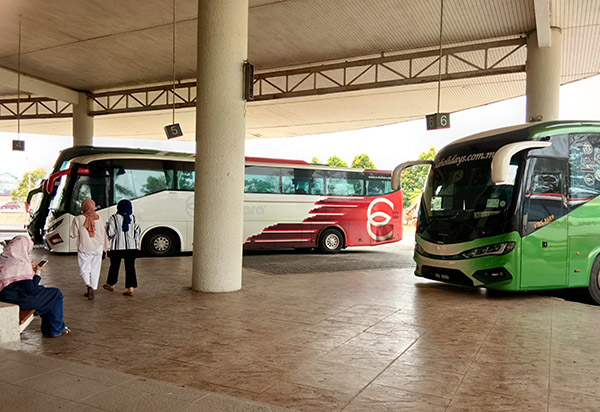 Location: Jengka, Pahang
Jengka Sentral Bus Terminal
Jengka Sentral Bus Terminal is situated in Bandar Jengka of Bandar Tun Razak, Pahang. The terminal is located at a few kilometers away from some educational institutes including the University of Technology MARA (UiTM) Jengka Campus. Hence, the terminal is especially popular among the students from this university.
Where is Jengka Sentral Bus Terminal located?
The bus terminal is less than 1KM away from Tun Abdul Razak Stadium and Jengka Hospital. See in Google Map »
Popular Bus Routes in Jengka Sentral Bus Terminal
Passengers can buy Jengka Sentral Bus Terminal online tickets and book for a trip from or to Jengka at BusOnlineTicket.com. We have partnered with various operators to provide the most comprehensive online booking portal for our customers. You can check bus schedules, compare prices and book the tickets for buses departing from Jengka Sentral Bus Terminal and many other bus terminals and locations on our website.
Below are some of the popular Jengka Sentral Bus Terminal bus routes available for online booking:
Check schedule for other bus online booking »
Popular Bus in Jengka Sentral Bus Terminal
How to Go to Jengka Sentral Bus Terminal?
To travel to Jengka Sentral, travelers can consider travelling by the public bus in the town. Besides, taking a taxi or GrabCar is also a convenient way to reach the terminal. Commonly, the students from UiTM will share the GrabCar service or take the RM1 van service to travel to the terminal.
✔️ Intercity Buses From and To Jengka
There are few operators that offer bus services that connect Jengka with other cities in Pahang.
Jengka Liner Bus Terminal Contact Details
Bandar Jengka,
26400 Bandar Tun Razak, Pahang
Phone: N/A
Amenities at Jengka Sentral Bus Terminal
The terminal has been operating since July 2014 to replace the old bus and taxi station. It was designed to bring safeness, comfort and convenience to the users. Other than the basic amenities such as washrooms and surau, the terminal also comes with parking lots and ATMs. Ticketing counters are also available at the terminal for the convenience of the travelers. Next, free Wi-Fi is available too at the building. Hence, the travelers will be able to connect their electronic devices with the Wi-Fi while waiting for the arrival of their bus.
Apart from that, there are 16 retail lots and 6 kiosks at Jengka Sentral Bus Terminal. Few of the lots and kiosks are convenience stores which allows the travelers to fill their hunger and thirstiness with some food and drinks. Besides, massage chairs can also be found in the terminal for the travelers to relax themselves.
In addition, travelers can easily move to their next destination by using the taxi service and domestic bus services at the terminal.
Why Book Jengka Sentral Bus Tickets Online?
No log in required to book
Earn loyalty points & redeem discounts
Various secured payment methods including eWallet
Most trusted online booking portal
Up to 200 operators choice
More than 8,000 routes
---
FAQ
How to buy a bus ticket from or to Jengka Sentral Bus Terminal?
You can buy Jengka Sentral Bus Terminal bus ticket from the ticket counter at the bus terminal in Jengka. The easier way is to book Jengka Sentral Bus Terminal online ticket at BusOnlineTicket.com or via
BusOnlineTicket mobile app
.
Do I need to register to book a Jengka bus online ticket?
Which bus company is available for online booking?
We have up to 200 operators available for booking. You can check the full list of
bus operators
on our website. Popular buses in Jengka Sentral Bus Terminal include Jengka Liner, Pancaran Matahari, E-Mutiara and many more.
Which bus route is available for online booking?
We have more than 8,000 routes available for
bus booking
including bus between Malaysia and Singapore and bus between Malaysia and Thailand. You can book Jengka bus tickets to get to Kuala Lumpur, Kota Bharu, Temerloh and many more on our website. Check trip availability online now!
Do I need to print anything to board the bus if I booked the ticket online?
You can show the Booking Confirmation that we sent to your email to board the bus. Booking confirmation are mostly instant, if you have not recieve your booking confirmation within 30 minutes, you can reach out to our customer service and contact us.
Are the ticket prices offered on BusOnlineTicket.com same as the counter?
Most of the ticket prices available on our website are the same as the counter. However, we do charge a minimum amount of processing fee, although in most cases, processing fee is waived depending on the operator you choose.
Other Popular Terminals in Pahang