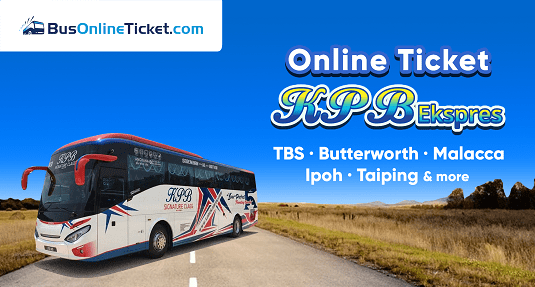 Taking KPB Express Bus From Penang to Various Destinations
BusOnlineTicket.com would like to recommend you to take KPB Express bus service departing from Penang. Most of the KPB Express bus services will depart from Penang to various destinations within Peninsular Malaysia. Now, you can enjoy the convenience of 24/7 online access to book your KPB Express bus ticket at BusOnlineTicket.com in advance so you can have peace of mind knowing that your seat is reserved before you travel.
KPB Express is one of the most popular bus companies based in Butterworth. All the buses are fully equipped with air-conditioner, sufficient legroom and spacious seats. They also provide express bus service with experienced and well-trained workforce to provide passengers the safest and most comfortable journey. The popular trips provided by KPB Express are bus from Penang to Kuala Lumpur and bus from Penang to Ipoh.
Popular Bus Services by KPB Express

… and many more.
The boarding point in Penang is Sg. Nibong Bus Terminal and also located conveniently at KPB Penang Office, nearby the Penang Sentral. The arrival points in Kuala Lumpur are located at Terminal Bersepadu Selatan (TBS), KL Sentral and Hentian Duta Bus Terminal. Meanwhile, the arrival point in Ipoh, Shah Alam, Malacca and Johor Bahru is located at Aman Jaya Bus Terminal, Shah Alam Bus Terminal Section 17, Melaka Sentral Bus Terminal, Bentayan Muar Bus Terminal and JB Larkin Bus Terminal respectively.
Get your bus ticket from Penang to KL and Penang to Ipoh at BusOnlineTicket.com with KPB Express. You can also book your bus tickets through BusOnlineTicket Mobile Apps which can be downloaded for free on App Store and Google Play. All the bookings made through BusOnlineTicket.com are instantly confirmed upon successful payment.