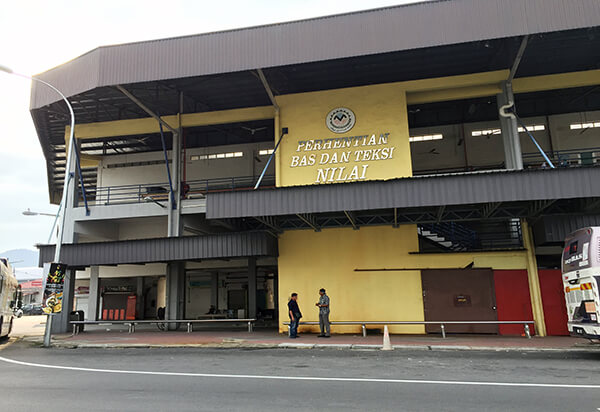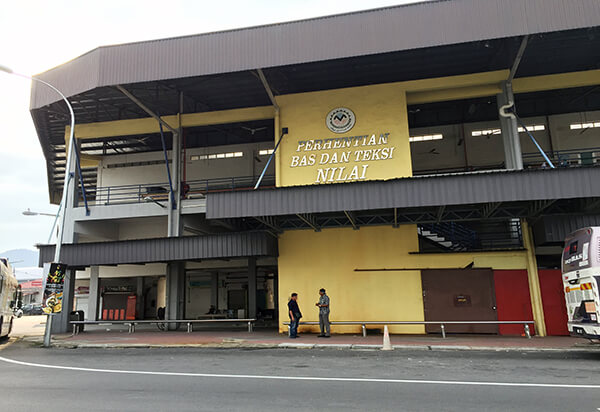 Location: Nilai, Negeri Sembilan
Nilai Bus Terminal
Nilai Bus Terminal or its official name Perhentian Bas Dan Teksi Nilai is situated at Bandar Baru Nilai of Negeri Sembilan. This double-storey bus terminal is highly accessible as it is just located at the side of the main road. Apart from that, one special point of Nilai Bus Terminal is the terminal is linked to the shop lot at the opposite with a pedestrian bridge. The terminal is regularly visited by the students as Nilai is an educational hub that filled with Universities including Nilai University, Politeknik Nilai and INTI International University, Nilai.
Where is Nilai Bus Terminal located?
Nilai Bus Terminal is just 2 minutes walking distance from Nilai KTM Station. See in Google Map »
Popular Bus Routes in Nilai Bus Terminal
Passengers can buy Nilai Bus Terminal online tickets and book for a trip from or to Nilai at BusOnlineTicket.com. We have partnered with various operators to provide the most comprehensive online booking portal for our customers. You can check bus schedules, compare prices and book the tickets for buses departing from Nilai Bus Terminal and many other bus terminals and locations on our website.
Below are some of the popular Nilai Bus Terminal bus routes available for online booking:
Check schedule for other bus online booking »
Popular Bus in Nilai Bus Terminal
How to Go to Nilai Bus Terminal?
There are several ways to travel to Nilai Bus Terminal which includes the shuttle bus service that is available in Nilai town. Apart from that, passengers reach the terminal via the taxi and GrabCar service too. Besides, travelling through KTM Komuter is also another way of travelling to the terminal.
Nilai Bus Terminal Contact Details
Jalan Terminal Nilai 1,
Bandar Baru Nilai,
71800 Nilai, Negeri Sembilan
Phone: N/A
✔️ How to go to Nilai Bus Terminal by myBAS?
myBAS is a public transportation service provided by Maraliner Sdn Bhd starting from year 2015. It was created to provide the bus service that travels to both urban and rural areas and at the same time increase the accessibility to these areas.
The operating hour of myBAS is from 6:00AM to 9:00PM every day while the frequency of the bus available will be available each 1 hour to 1 hour and 30 minutes, depending on the route. Travelers can take the following lines to travel to Nilai Bus Terminal:
T50: Terminal 1 Seremban ⇔ Pajam ⇔ Nilai Sentral
T52: Terminal 1 Seremban ⇔ Kampung Pulau ⇔ Nilai Sentral
T56: Nilai Sentral ⇔ Politeknik Nilai ⇔ Mambau
F512: Nilai Sentral ⇔ Universiti Sains Islam Malaysia (USIM) ⇔ Nilai 3
✔️ How to go to Nilai Bus Terminal by KTM Komuter?
KTM Komuter can be a good choice as it covers a lot of areas in Malaysia. Furthermore, it is usually fast and punctual.
Head to and stop at Nilai Railway Station.
Once you exit the station, turn right and walk straight until you see the first T-Junction.
Head to the right to Jalan Terminal and walk straight. At the second junction, turn left and walk straight until you see your destination on your right.
KTM stands for Keretapi Tanah Melayu and KTM Komuter is one of the train services provided by KTMB. KTM Komuter travels through various locations in Negeri Sembilan and around Malaysia.
Amenities at Nilai Bus Terminal
Travelers are able to find basic facilities such as sheltered waiting area and ticket counters at Nilai Bus Terminal. At the same time, benches are also available beside the bus bay. Moreover, vending machine and convenience store can also be found at the terminal.
Although there are not much amenities at the terminal, travelers will not have to worry about the convenience of getting the essentials when they are at the terminal. This is because travelers can easily travel to the banks, restaurants and mosque which are just a few hundred meters away from the terminal.
Upon the arrival at Nilai Bus Terminal, travelers are able to travel to their next destination by using the town bus and taxi services at the terminal.
Why Book Nilai Bus Tickets Online?
No log in required to book
Earn loyalty points & redeem discounts
Various secured payment methods including eWallet
Most trusted online booking portal
Up to 200 operators choice
More than 8,000 routes
---
FAQ
How to buy a bus ticket from or to Nilai Bus Terminal?
You can buy Nilai Bus Terminal bus ticket from the ticket counter at the bus terminal in Nilai. The easier way is to book Nilai Bus Terminal online ticket at BusOnlineTicket.com or via
BusOnlineTicket mobile app
.
Do I need to register to book a Nilai bus online ticket?
Which bus company is available for online booking?
We have up to 200 operators available for booking. You can check the full list of
bus operators
on our website. Popular buses in Nilai Bus Terminal include My XPress, Lienadia Express, Queen Express and many more.
Which bus route is available for online booking?
We have more than 8,000 routes available for
bus booking
including bus between Malaysia and Singapore and bus between Malaysia and Thailand. You can book Nilai Bus Terminal bus tickets to get to Kota Bharu, Pasir Mas, Kuala Terengganu and many more on our website. Check trip availability online now!
Do I need to print anything to board the bus if I booked the ticket online?
You can show the Booking Confirmation that we sent to your email to board the bus. Booking confirmation are mostly instant, if you have not recieve your booking confirmation within 30 minutes, you can reach out to our customer service via email or
contact us
.
Are the ticket prices offered on BusOnlineTicket.com same as the counter?
Most of the ticket prices available on our website are the same as the counter. However, we do charge a minimum amount of processing fee, although in most cases, processing fee is waived depending on the operator you choose.
Other Popular Terminals in Malaysia