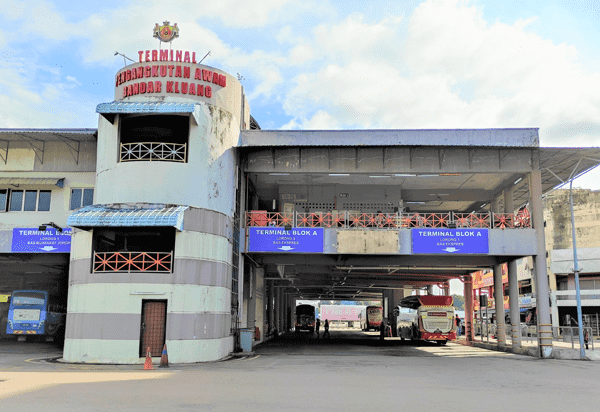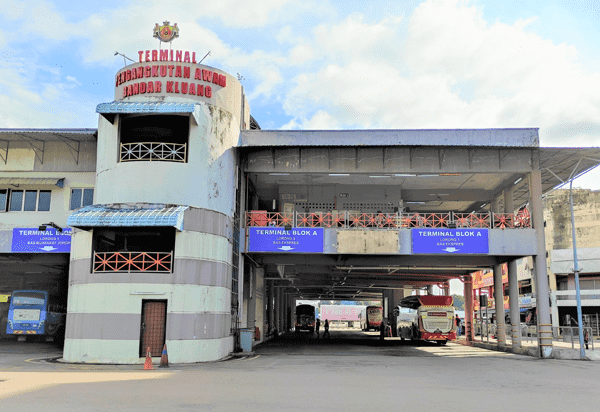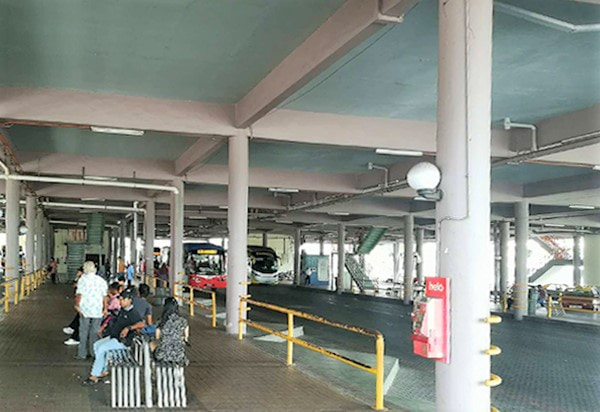 Location: Kluang, Johor
Terminal Pengangkutan Awam Bandar Kluang
Kluang Bus Terminal building is named "Terminal Pengangkutan Awam Bandar Kluang". Also called Kluang Bus Station, this bus terminal serves intercity buses and domestic buses travelling within Kluang city. The terminal has two levels, the ground level is for the bus platform and the first level is for the ticket counter.
Where is Kluang Bus Station?
Kluang Bus Station is located in the middle of Kluang city in Jalan Bakawali, near to Kluang Parade. See in Google Map »
Kluang Bus Ticket Online
Booking your bus ticket online is much more convenient. Moreover, you can save the time and cost of travelling to the terminal to buy your ticket in advance. Buying a last minute ticket at the counter might cost you long waiting hours at the terminal.
Below are some of the popular Kluang bus ticket available for online booking:
Check schedule for other bus online booking »
Popular Bus in TBS
How to Go to Kluang Bus Terminal?
You can reach Kluang Bus Terminal by taxi or Kluang city buses if you are in Kluang.
Most locals would have their friends or family members sending or picking them up from the terminal. Nonetheless, Kluang Bus Station is well connected with various local city buses, hence getting to the terminal shouldn't be much of a hassle.
✔️ Kluang City Buses
One of the popular Kluang city buses is the Bas Muafakat Johor (BMJ). BMJ is a free bus service provided by the Johor State Government and Local Authorities for many cities in Johor. Apart from that, other city bus services available in Kluang Bus Terminal include Renggam Bus, Johore Motor and Mersing Omnibus. If none of these city buses are suitable, you can hire a taxi or Grab car to get to the terminal.
✔️ From & To JB Larkin Sentral
Between Kluang and JB Larkin Sentral, there are three bus operators available for online booking; S&S International, KKKL Express and Orkid 78. The ticket price is around RM11. The distance between the two cities is quite far around 100 km, hence taking a taxi would cost a lot. Taking the bus service is the best and economic option available.
✔️ From & To Singapore
Bus service from Singapore to Kluang and from Kluang to Singapore are also popular at the bus terminal. Many locals from Kluang work in Singapore and would travel back and forth to Kluang on weekends. There are limited operators offering bus service for this route, some of the available ones are Starmart Express and The One Travel & Tours.
Arrivals and Departure at Kluang Bus Station
Bus to Kluang normally arrives at the Kluang Bus Station. Upon arrival, passengers for the bus to Kluang can easily take the local city buses or taxis available at the bus station to get to their next destination. Since Kluang Bus Station is inside the city, other conveniences are easily accessible such as eateries, convenience stores and many more.
The ticket counter in Kluang Bus Terminal is on the First Floor and only accessible by the staircase. This is slightly inconvenient especially for older people. For those who booked online, you can check in at the ticket counter to get the bus plate number before boarding the bus. There are seating areas for passengers who are waiting for their bus on the first floor and at the boarding platform on the ground level.
For those who booked Kluang online ticket, you should arrive at the Terminal Kluang at least 30 minutes prior to departure. Booking online can reduce the waiting time for the next available departure so plan your journey ahead and book tickets online with us.
Conveniences at Terminal Kluang
The bus terminal is an integrated public transportation hub in Kluang. You can take the local bus or Muafakat Johor buses to travel from and to the terminal. In addition, you can also easily find taxis at the terminal.
Plenty of seats are available for passengers to wait for their bus at the bus platform and near the ticket counter on the first floor. Moreover, you can get some food at the terminal food court just beside the ticket counters.
The terminal might not have an air conditioning system, but the building is roofed so you would not have to worry about waiting for the bus under the scorching sun or while it is raining.
Why Book Kluang Bus Tickets Online?
No log in required to book
Earn loyalty points & redeem discounts
Various secured payment methods including eWallet
Most trusted online booking portal
Up to 200 operators choice
More than 8,000 routes
---
FAQ
How do I buy bus tickets to Kluang or from Kluang?
You can buy Kluang bus tickets from the ticket counter at the bus terminal or bus station. The easier way is to book Kluang bus tickets online at BusOnlineTicket.com or via
BusOnlineTicket mobile app
.
Do I need to register to book Kluang bus ticket online?
Which bus company is available for online booking?
We have up to 200 operators available for booking. You can check the full list of
bus operators
on our website. Some popular Kluang bus operators include S&S International, KKKL Express, Starmart Express and KPB Express.
Which bus route is available for online booking?
We have more than 8,000 routes available for
bus booking
including bus between Malaysia and Singapore and bus between Malaysia and Thailand. You can book Kluang bus tickets from KL, JB, Singapore and many more.
Is there any bus from Singapore to Kluang?
Yes, Starmart Express does offer buses from Singapore to Kluang and the return bus from Kluang to Singapore. Ticket price is around $S15 for bus from Singapore and RM15 for bus from Kluang. Check schedule and tickets availability online on our website.
Are the ticket prices offered on BusOnlineTicket.com same as the counter?
Most of the ticket prices available on our website are the same as the counter. However, we do charge a minimum amount of processing fee, although in most cases, processing fee is waived depending on the operator you choose.
Other Popular Terminals in Malaysia