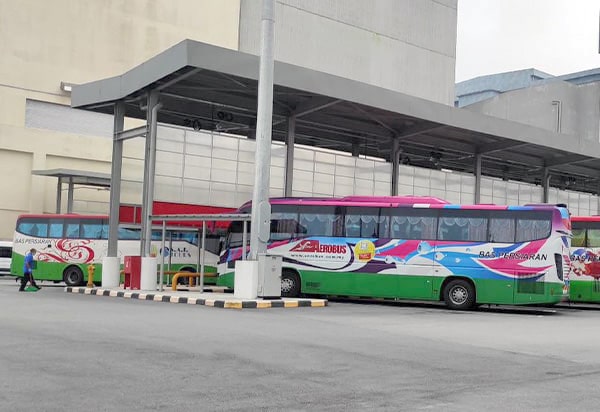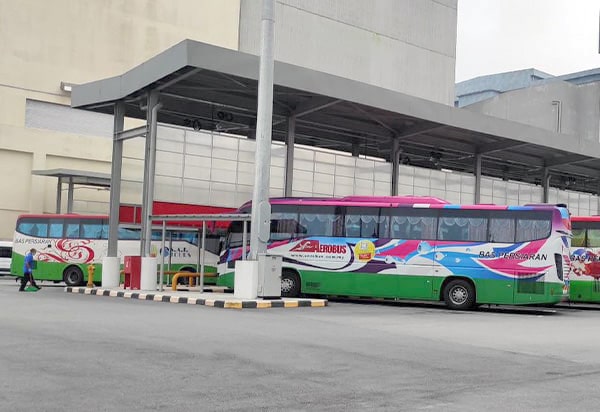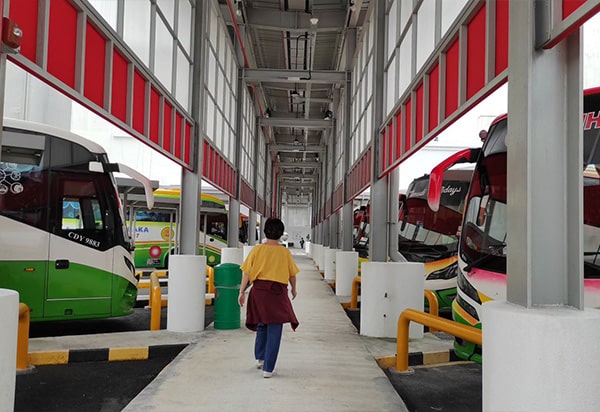 Location: SkyAvenue Genting Highlands, Pahang
Genting Bus Terminal in SkyAvenue
Genting Sky Avenue Bus Terminal is part of SkyAvenue Complex in Genting Highlands located at the top of the mountain. It is a new terminal that has just started operating since 2022. Hence, travelers can now directly ride a bus to Genting Highlands without having to take cable car to reach their destination.
Where is Genting SkyAvenue Bus Terminal located?
SkyAvenue Bus Terminal is located in the top area of Genting Highlands and connected to the Genting SkyAvenue shopping complex. See in Google Map »
Currently, there are three bus terminals where buses may depart from or drop off passengers in Genting Highlands. Most popular one is Genting Awana Bus Terminal where passengers can experience the cable car ride to Genting Highlands. Another one is in Gohtong Jaya Station which also has cable car service to go up to Genting Highlands peak. The new addition is the SkyAvenue Bus Terminal located at the top of the mountain.
Popular Bus Routes in Genting Bus Terminal
Passengers can buy Genting bus tickets online and book for a trip from or to Genting Highlands at BusOnlineTicket.com. We have partnered with various operators to provide the most comprehensive online booking portal for our customers. You can check bus schedules, compare prices and book the tickets for buses departing from Genting Bus Terminal and many other bus terminals and locations on our website.
As of the time of writing, only buses between Singapore and Genting Highlands are allowed in SkyAvenue Bus TerminaBelow are some of the popular Genting SkyAvenue Bus Terminal bus routes available for online booking:
Check schedule for other bus online booking »
Popular Bus in Genting SkyAvenue Bus Terminal
How to Go to SkyAvenue Bus Terminal?
From the shopping complex, the terminal is accessible via an escalator from Level 1. The escalator is located next to the Skytropolis Indoor Theme Park entrance. Take the escalator to go down a level, turn left and walk towards the FamilyMart. You will find another escalator on your right. That is the gateway to the bus terminal in Genting SkyAvenue. Elevator is also available directly to the bus terminal.
Genting SkyAvenue Contact Details
Resorts World Genting,
Genting Highlands,
69000 Genting Highlands, Pahang.
Phone: N/A
Amenities at Genting SkyAvenue Bus Terminal
At Genting SkyAvenue Bus Terminal, you can find basic facilities like washrooms, OKU washroom and baby changing room. To provide convenience for the Muslim travellers, praying rooms are also available at the terminal. While waiting for the arrival of the bus, travellers can rest at the open-aired waiting area and benches.
As for the other amenities such as ATM machines, currency exchange service and lockers, you can find them at Genting SkyAvenue Complex. Family Mart is the nearest convenience store to this Genting Bus Terminal. On top of that, you can choose from various restaurants and snacks bars in the shopping complex to fix your cravings upon your arrival at the terminal or before your departure.
Why Book Genting Bus Tickets Online?
No log in required to book
Earn loyalty points & redeem discounts
Various secured payment methods including eWallet
Most trusted online booking portal
Up to 200 operators choice
More than 8,000 routes
---
FAQ
How to buy a bus ticket from or to Genting SkyAvenue Bus Terminal?
You can buy Genting SkyAvenue Bus Terminal bus ticket from the ticket counter at the bus terminal in Genting Highlands. The easier way is to book Genting SkyAvenue Bus Terminal online ticket at BusOnlineTicket.com or via
BusOnlineTicket mobile app
.
Do I need to register to book a Genting bus online ticket?
Which bus company is available for online booking?
We have up to 200 operators available for booking. You can check the full list of
bus operators
on our website. Popular buses in Genting SkyAvenue Bus Terminal include KKKL Travel & Tours, Transtar Express, 707-inc Express and many more.
Which bus route is available for online booking?
We have more than 8,000 routes available for
bus booking
including bus between Malaysia and Singapore and bus between Malaysia and Thailand. You can book Genting SkyAvenue Bus Terminal bus tickets to get to Jurong East, Tampines, Kovan Hub in Singapore and many more on our website. Check trip availability online now!
Do I need to print anything to board the bus if I booked the ticket online?
You can show the Booking Confirmation that we sent to your email to board the bus. Booking confirmation are mostly instant, if you have not recieve your booking confirmation within 30 minutes, you can reach out to our customer service via email or
contact us
.
Are the ticket prices offered on BusOnlineTicket.com same as the counter?
Most of the ticket prices available on our website are the same as the counter. However, we do charge a minimum amount of processing fee, although in most cases, processing fee is waived depending on the operator you choose.
Other Popular Terminals in Pahang