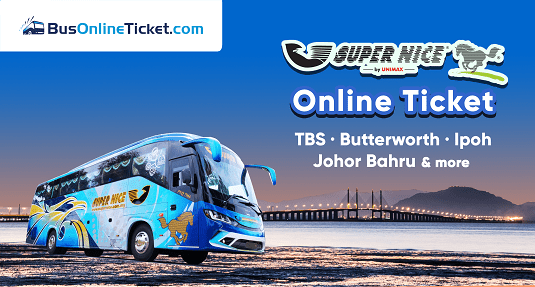 Supernice Grassland Offers Express Bus Service within Peninsular Malaysia and Singapore
Supernice Grassland is one of the Malaysia's largest, fastest growing, and most popular long-distance bus transportation company. We believe the partnership between BusOnlineTicket.com and Supernice Grassland could bring great convenience to our customers to purchase bus ticket in the twinkling of an eye.
Popular Bus Services by Supernice Grassland

… and many more!
Supernice Grassland is well-known in providing high-quality bus service for their passengers to different locations within Peninsular Malaysia and Singapore. All the drivers and staffs from Supernice Grassland are very experienced and well-trained. The buses deployed by Supernice Grassland are equipped with charging port, on-board television and WiFi facility.
Take a move now and be the first to enjoy the convenience of booking Supernice Grassland bus ticket online via BusOnlineTicket.com. We advise you to book your bus ticket in advance especially during peak season and festive season. By booking online in advance, you would have a piece of mind that your ticket is reserved and secured.