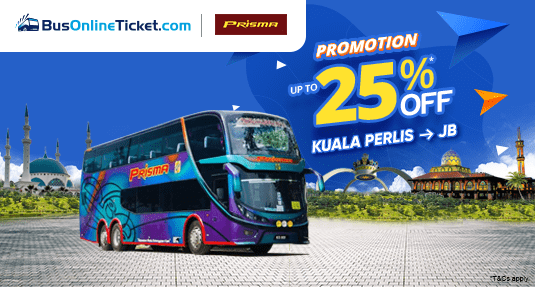 Travel from Kuala Perlis to JB at Cheaper Price!
Prisma Express is offering discount for their bus tickets from Kuala Perlis to JB. Enjoy up to 25% OFF when you book Kuala Perlis to Johor Bahru bus tickets online at BusOnlineTicket.com now!
Travelling with Prisma Express is comfortable and their bus captains are dedicated to get their passengers safely to their destination. For bus from Kuala Perlis to Johor Bahru, they are using 30-seater buses so passengers can have ample space with cozy seats for a relaxing trip during the long journey.
The pick-up point in Kuala Perlis is at the Kuala Perlis Bus Terminal. The bus will drop passengers off in Larkin Terminal in Johor Bahru. So, plan your trip and book Kuala Perlis to JB bus tickets online today! You can also get Prisma Express bus tickets on BusOnlineTicket.com mobile apps which can be downloaded for free on App Store, Google Play Store and Huawei AppGallery.