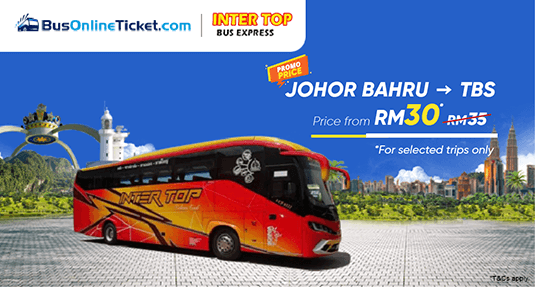 Choose Inter Top Express & Travel Exclusively at Cheaper Price!
Great news for those who are looking for bus ticket to travel from Johor Bahru to Terminal Bersepadu Selatan (TBS)! You can now get the ticket at promo price!
The original price of the ticket is RM 35, but you can now grab the ticket at the rate starting from RM 30 per way when you book the mentioned route with Inter Top Express! The discounted price will be reflected on the booking page. Please note that this promotion is valid for booking and travelling until 31 October 2021 and applicable only for selected trips only.
Inter Top Express Bus Services with Promo Price is as listed below:
For this Johor Bahru to TBS route, the departure point in Johor Bahru is situated at Larkin Sentral Bus Terminal while the arrival point is at Terminal Bersepadu Selatan (TBS).
So, be quick everyone! Don't miss out this chance to grab the exclusive deal and travel with Inter Top Express! Check this deal out at our trusted online ticketing portal BusOnlineTicket.com and book your bus ticket now. You can also book ticket via BusOnlineTicket mobile apps which can be downloaded for free on App Store, Google Play Store and Huawei AppGallery.
Please ensure you follow the travel guidelines prescribed by the government.