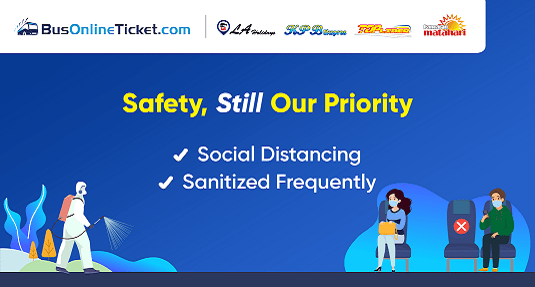 Good news! Many SOPs are relaxed for those who are fully vaccinated and many industries are now allowed to operate as usual with the guidelines by the government.
In addition, express buses are now allowed to operate at full capacity and travelling cross state is possible with travel permission by the authority. Despite these updated SOPs, there are operators who are still practicing Social Distancing for their services. This is to ensure that their passengers can still travel with peace of mind to meet their loved ones. Some of the operators include:
Even with the relaxed SOPs, we hope everyone does not take this as a greenlight to stop taking precautions. Please ensure you follow the travel guidelines prescribed by the government. Express buses are operating following the normal SOPs enforced to ensure passengers' safety.
Bus tickets are available online and you can book them easily on BusOnlineTicket.com website and mobile apps which can be downloaded for free on App Store, Play Store and Huawei AppGallery. Sign up as member, get BOT Miles reward with every booking you make and enjoy member exclusive benefits. Experience our service today!