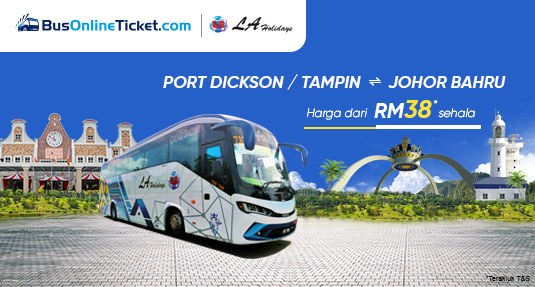 Travel Easily Between Port Dickson, Tampin, JB & More
Imagine travelling for 40-50 minutes just to board the bus in Seremban Bus Terminal. That is the norm for the people living in Port Dickson and its neighborhood areas. This is because the terminal in Seremban is the main express bus connector to other cities in other states as it has more numbers of bus services covering more routes. Inspired to improve this situation, LA Holidays has decided to help and offer their bus services for the locals in these areas so they can travel conveniently.
LA Holidays is one of the bus operators that has gained popularities among passengers due to its consistent quality service over time. Their buses are mostly equipped with WiFi and USB port on top of having air conditioning system and reclining seats. Their bus design is new and the interior is spacious to offer the best comfort for their passengers.
The new service offered by LA Holidays include:
In Johor Bharu, the pick-up and drop-off points are in Larkin Sentral and KFC Petronas Jalan Skudai. Local interchange buses are available in both pick-up and drop-off points. In other locations, the pick-up and drop-off points are located in their respective bus terminal.
With the availability of this new bus service, passengers no longer need to go to Seremban to board the bus. Ride with LA Holidays and enjoy a hassle-free travel to your destination. Moreover, booking online offers you extra saving and convenience. Check bus schedule, plan your trip and get your ticket online easily within few taps on your phone. Experience our service today!