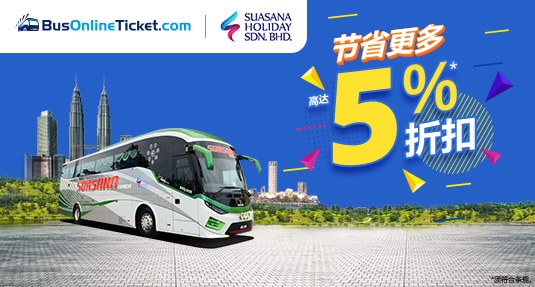 Save & Travel with Suasana Holiday Express
Enjoy up to 5% OFF when you book any Suasana Holiday Express bus tickets with BusOnlineTicket.com until 30 September 2020!
Popular Routes by Suasana Holiday Express
The discounted price, if available, is reflected on the Suasana Holiday Express trips on the booking page. You can check for the offer availability on our website and mobile apps.
Terms & Conditions
Promotion last until 30 September 2020 only.
Promotion is valid for any Suasana Holiday Express bus ticket bookings on BusOnlineTicket.com website and mobile apps only.
Any other charges, including (but not limited to) processing fee, travel insurance or personal expenses or request, shall be borne entirely by the customers.
The management of BusOnlineTicket.com reserves the right to change the terms and conditions of this promotion without prior notice.