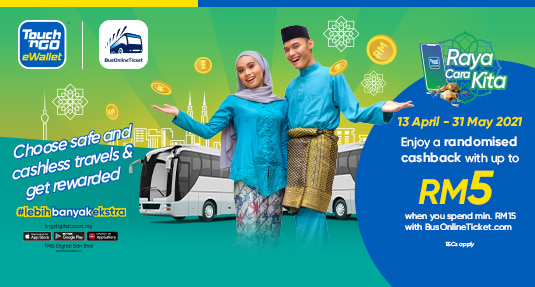 Get
'Duit Raya'

When You Book Your Bus Ticket Online!

Ramadhan is here, and soon Raya will greet us in May!

In this month of giving, TNG Digital Sdn. Bhd. (TNGD) is giving randomized cashback up to RM 5 to their Touch 'n Go eWallet users when the user spend minimum RM 15 in a single transaction with BusOnlineTicket.com. The cashback given will be generated randomly by a computerised program and you can receive the cashback two (2) times during the campaign period. Limited to first 50,000 redemptions only! Campaign ends on 31 May 2021, or until the offer has been fully redeemed.

So, check bus schedule on our website or mobiles apps and easily book your tickets online! Please ensure you follow the travel guidelines prescribed by the government.

Terms & Conditions
The promotion is valid for first 50,000 redemptions only.
The promotion is valid until 31 May 2021 only, or until fully redeemed.
You are eligible to enjoy a randomized cashback up to RM 5 when you spend minimum RM 15 in a single transaction and pay via Touch 'n Go eWallet.
You can receive the randomized cashback two (2) times during the campaign period.
The Cashback will be generated randomly by a computerised program.
This Campaign is not exchangeable or replaceable for cash.
The Cashback amount will be credited into your Touch 'n Go eWallet within three
(3) working days (Monday to Friday excluding Malaysia public holidays) after the eligible transaction date. TNGD will NOT make any phone calls pursuant to this Promotion.
By participating in this Campaign, you agree to be bound by any rules & regulations issued by TNGD. Failure to comply with these terms and conditions will result in immediate disqualification.
TNGD shall be entitled to withhold any benefits under the services rendered, with or without notice to the users if the user is found to have breached TNGD's Users Terms and Conditions.
TNGD and BusOnlineTicket decision regarding the award of the prizes, and/or in every situation including any not covered in these Terms and Conditions, shall be final and binding on all participants in the Promotion, and no queries, challenges, or appeals may be made or entertained.