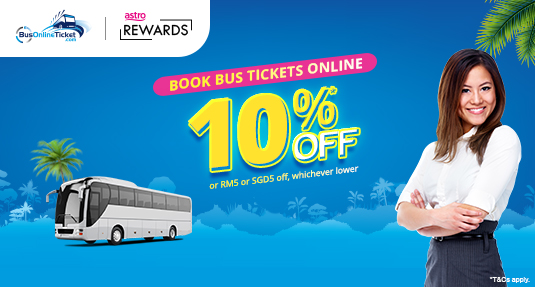 Get Up to 10% OFF on Your Bus Ticket Booking
Astro Rewards has partnered with BusOnlineTicket.com to reward their subscribers with 10% OFF on any bus ticket purchase on our website. If you are an Astro Rewards subscriber, go get the discount code from Astro Rewards and redeem the promotion on our website today!
Travel at Cheaper Rate
Malaysia has a lot to offer if you are planning for a weekend getaway or a staycation. BusOnlineTicket.com offers bus rides to various must-visit locations in Malaysia such as bus to Malacca, Penang, Kota Bharu and Cameron Highlands. We have up to 8,000+ bus routes offered by up to 200+ bus operators for you to choose from.
Now, with Astro Rewards you get to enjoy extra cheaper rate for your bus ticket booking with BusOnlineTicket.com. On top of that, we have the best Loyalty Program where you can earn points and redeem discounts for your future bookings. Booking your bus ticket with BusOnlineTicket.com absolutely gives more value in addition to the extra saving benefit when you book online.
So, start booking your bus ticket at BusOnlineTicket.com today!