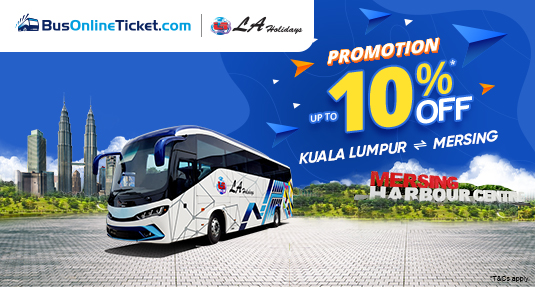 LA Holidays Offers Mersing Bus Ticket at 10% OFF
Mersing is one of the gateway jetty to Tioman Island, one of the most beautiful islands in Malaysia. Planning to go to Tioman Island? Great news is, LA Holidays now offers up to 10% OFF to celebrate the launch of their new route between KL and Mersing. Promotion lasts until 5 October 2020.
LA Holidays is a popular brand that is gaining more and more customers over the years for its good service reputation. Their buses are using the new trend design with comfortable seats, spacious legroom and come with free Wi-Fi and USB ports on board. Their bus ticket prices are also affordable even with these quality service that they offer.
LA Holidays New Bus Routes
The discounted price, if available, is reflected on the LA Holidays trips on the booking pages. You can check for the offer availability on our website and mobile apps. Note that the offer is available for departure date between 1 October until 31 October 2020 only.