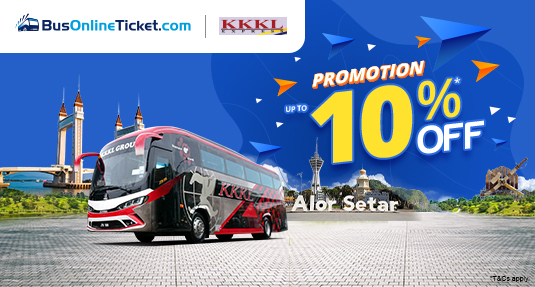 10% OFF on KKKL Express New Routes from KL to K. Terengganu and Many Cities in Kedah
KKKL Express has extended their bus service to connect more routes from KL to Kuala Terengganu, Alor Setar, Kangar, Kuala Perlis and Changloon. Moreover, the bus service between KL and Kuala Terengganu by KKKL Express is a direct trip via Kuala Berang. With the launch of these new routes, everyone gets to enjoy up to 10% INSTANT DISCOUNT on all their bus tickets for these new routes. Promotion lasts until 20 October 2020.
KKKL Express Routes Available for 10% OFF Promo
The discounted price, if available, is reflected on the KKKL Express bus trips on the booking pages. You can check for the offer availability on our website and mobile apps. Note that the offer is available for departure date between 1 October until 31 October 2020 only.