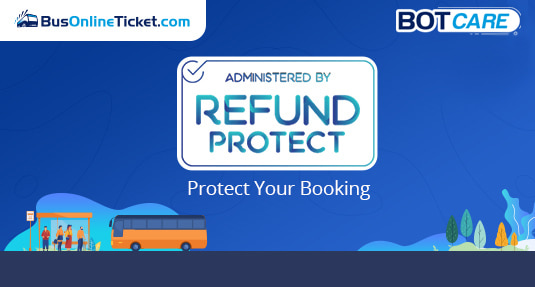 To give the very best benefits, BusOnlineTicket.com is now offering an additional service to our dearest customers. With Refund Protect you can now get full refund on your ticket booking in special circumstances which are unforeseen and outside of your control, especially during uncertain times such as:
Sickness, Accident, Injury (with Medical Certificate proof)
Immediate relative sickness (with Medical Certificate proof)
Public transport failure
Private vehicle failure
Home emergency
and many more…
For complete wordings of what Refund Protect covers: Refund Protect
Refund Protect In Regards to Covid-19
Refund Protect also covers the refund protection with the mentioned reasons that are related to Covid-19, including:
You, or the member of your Immediate Household, have contracted Covid-19 within the 14 days immediately prior to the Booking. The request must be supported by the evidence of a positive test result.
The hospitalization or death of the member of Your Immediate Family Member because of Covid-19, within the 28 days immediately prior to the Booking. The request must be supported by a medical or death certificate.
There is a significant change in your pre-existing medical condition within the 14 days immediately prior to the Booking and the advised by the Doctor not to Attend the Booking because of the risk of exposure to Covid-19.
However, refunds are not applicable for the situation where You do not Attend due to Your concern of catching Covid-19 or self-isolating without a positive Covid-19 test in your household, or where the Booking is cancelled.
These reasons for refund are considered on an entirely discretionary basis and are not to be taken as a guarantee of refund.
** Read the full terms and conditions to understand more on the refund policy and any excluded reasons for Covid-19 refund applications.
How to Get Refund Protect:
Refund Protect is an add-on that BusOnlineTicket.com offers at the payment page during the booking and cost only 10% of the ticket price! In case you want to make refund request, you can do so at Refund Protect.