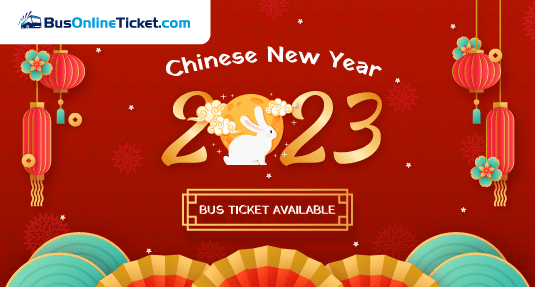 Book Your Chinese New Year 2023 Bus Tickets And Secure Your Seats Today!
BusOnlineTicket.com is excited to announce that the Chinese New Year 2023 bus tickets are now open for online booking. The Rabbit year is coming soon! To avoid the limited choice available for your last minute booking, why not plan and book your round-trip tickets with your preferred date now? Secure your seats with your preferred bus operators today without any hassle!
Why Book Your Chinese New Year Bus Ticket Earlier?
Chinese New Year on 2023 falls on January 22nd and 23rd, the first day of Chinese New year falls on Sunday, while the upcoming Monday will be a replacement holiday for that. Therefore, many people will start to travel back to their hometown as early as January 20 th to avoid the massive traffic jam and also have their reunion dinner on time.
Bus tickets for travelling within Malaysia and Singapore are already selling like hot cakes! Therefore, to make sure our users are able to grab your ticket, we advise to book your bus ticket online from BusOnlineTicket.com as soon as possible to avoid disappointment of not getting your preferred bus ticket!
The following bus services are now available for online booking now:
Singapore to Malaysia

Malaysia to Singapore

Bus from Johor Bahru
… and many more other bus routes within Peninsular Malaysia are available now!
So, check CNY bus schedule and book your bus tickets in advance now!
BusOnlineTicket.com is a trusted online booking portal who offers the convenience of online bus ticket booking. Therefore, you don't need to go to the counter just to buy the tickets. Book your bus tickets in advance with BusOnlineTicket.com to have a peace of mind knowing your seat for travelling back to your hometown during Chinese New Year season is secured and reserved. Happy Chinese New Year in advance!