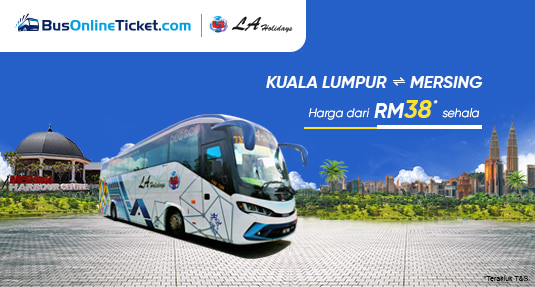 LA Holidays Offering New Bus Service from KL to Mersing
LA Holidays is well known among the locals for its quality and comfortable bus service. Whoever tried their buses are mostly satisfied and quickly become their returning customers! Now, they have opened a new service to help us travel between KL and Mersing easily. LA Holidays tickets for bus from KL to Mersing Jetty and the return journey back to KL are available for online booking at BusOnlineTicket.com.
New bus services offered by LA Holidays:
The pick-up and drop-off point in Kuala Lumpur is in TBS (Terminal Bersepadu Selatan). Meanwhile, the pick-up and drop-off points in Mersing include Mersing Bus Terminal and Mersing Jetty. Mersing Jetty is located not far from the bus terminal. Although it's reachable by walking, it is always more comfortable to be dropped off right at the jetty if you're planning to take the ferry to Tioman Island. That is why LA Holidays included Mersing Jetty as one of the pick-up and drop-off points for theirs passengers' convenience.
So, check bus schedule and book LA Holidays bus ticket online at BusOnlineTicket.com website and mobile apps. Plan your trip and enjoy the convenience with extra saving when you book with us. LA Holidays bus tickets are also included in our BOT GoFlexi program where you can cancel or reschedule LA Holidays bus ticket online. Book now!